Chapters and Regional Sites
ISEE and its programs are managed at UC Santa Cruz. ISEE collaborates with many local faculty and partners, and draws from the efforts of a number of UC Santa Cruz graduate students and postdocs from many science and engineering disciplines in the PDP.  While many of ISEE's activities are outlined in other areas of our website, ISEE's PDP-specific activities and the efforts of our local PDP participants are included in our Santa Cruz Chapter.
Regional ISEE Chapters are made up of one or more partner organizations, usually with a thematic focus, that collectively support participation in the PDP in their region. Participation in ISEE Chapters is funded directly by the organization(s) in the Chapter, and/or through grants awarded to ISEE specifically for the purpose of expanding participation in the PDP. Chapters vary in size and focus and each works with ISEE Headquarters to develop a unique growth plan. Chapters each bring something unique to ISEE and shape the community in their own way. ISEE welcomes new Chapters and has outlined the 
key components
for launching a successful Chapter. 
ISEE Chapter Workshop - Courtyard Oyster Point - San Francisco CA - May 2019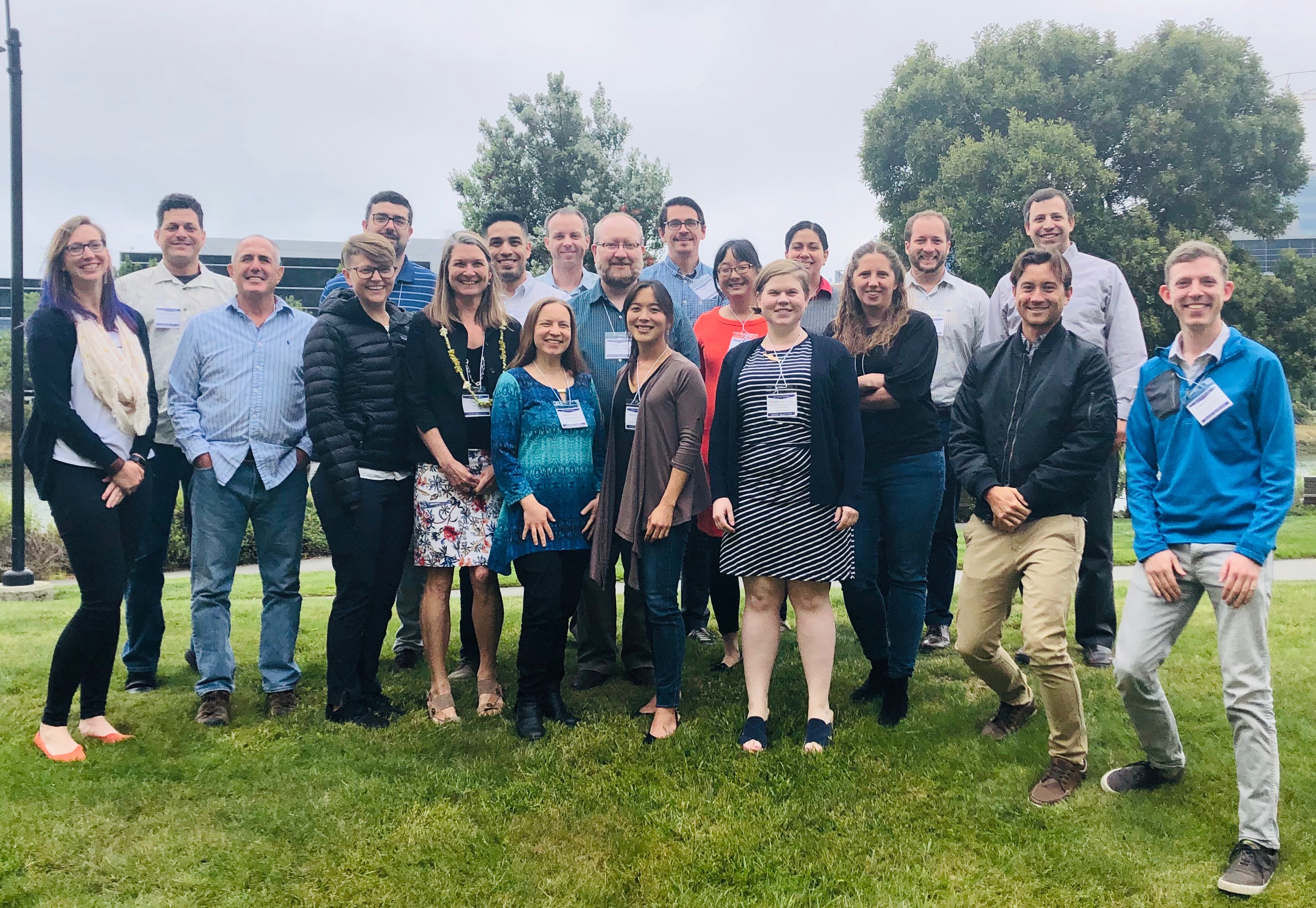 From Left to Right: Caitlin Casey (Professor, University of Texas Austin), Mike Nassir (Instructor, 

Univ. of Hawaii at Manoa / UH Institute for Astronomy), Mark Hoffman (Asst. Professor, 

UH Maui College), Lauren Anderson (Postdoc, 

Flatiron Institute), Saul 

Beceiro Novo (Asst. Professor, Michigan State Univ), 

Lisa Hunter (Director ISEE), 

Rafael Palomino (ISEE Staff, Program Manager), Anne Medling (Doctor, 

University of Toledo), 

Jason Porter (University of Houston Chapter Lead, Associate Professor),  

Scott Seagroves (ISEE Staff, The College of St. Scholastica), Stacey Sueoka (

Optical Systems Engineer, NSO/DKIST), 

Devin Silva (Michigan State University Chapter Lead, Teaching Specialist), Sora Kim (Assist. Professor, UC Merced), Stephanie Douglas (

NSF AAPF Fellow, 

Center for Astrophysics | Harvard & Smithsonian), Raquel 

Martinez (

Graduate Student, 

University of Texas Austin), 

Jessica Lu (UC Berkeley Chapter Lead, Assistant Professor), 

Nicholas McConnell (ISEE Staff, Program Manager), 

Austin Barnes (ISEE Staff, Akamai Program Manager), 

Seth Hornstein (University of Colorado Boulder Chapter Lead, Senior Instructor), Andrew 

Sturner (Graduate Student, 

University of Colorado Boulder).
ISEE Chapter Meeting - Asilomar Conference Center - Monterey CA - Dec 2017
From Left to Right: Austin Barnes (ISEE Staff, Akamai Program Manager), Mike Fitzgerald (UCLA Chapter Lead, Assoc. Professor), Scott Seagroves (ISEE Staff, The College of St. Scholastica), Jessica Lu (UC Berkeley Chapter Lead, Assistant Professor), Tamera Ball (ISEE Staff, UCSC Asst. Project Scientist), Nicholas McConnell (ISEE Staff, Program Manager), Rafael Palomino (ISEE Staff, Program Manager), Katie Morzinski (University of Arizona Chapter Lead, Assistant Astronomer), Steven Rodney (University of South Carolina Chapter Lead, Assistant Professor), Tiffani Quan (STEM Education, 

Lawrence Hall of Science, UC Berkeley), Jason Porter (University of Houston Chapter Lead, Associate Professor), Christoph Baranec (University of Hawaii Chapter Lead, Assistant Astronomer), Devin Silva (Michigan State University Chapter Lead, Teaching Specialist), Emily Rice (CUNY College of Staten Island Chapter Lead, Associate Professor), Seth Hornstein (University of Colorado Boulder Chapter Lead, Senior Instructor), Barry Kluger-Bell (Science Education Consultant), Lisa Hunter (Director ISEE), Christy Starr (UCSC Researcher), Campbell Leaper (UCSC Professor, Psychology Dept Chair)